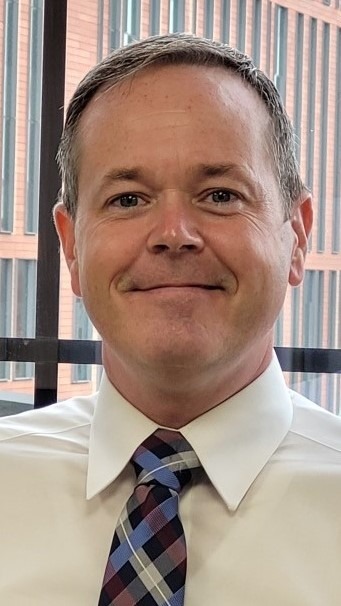 WNYBC – Paul R. Hosking, MD
Dr. Paul Hosking, WNY BloodCare's new Laboratory Director, takes a broad view on health.  This spring he will be opening a greenhouse and urban garden on Buffalo's West Side. He knows that studies have shown that gardens benefit community growth, social interaction and enhance quality of life. Paul wants to share the health value in gardens and improved well-being that comes along with gardening activities.
Paul believes, "Exposure to plants and gardening is a great way to strengthen flexibility and dexterity, improve cognition and inherently involves nature and sunlight! In addition, growing one's own food is rewarding and healthy!"
Dr. Hosking took the same "root" approach to his medical career. A board-certified hematopathologist, he attended the University at Buffalo School of Medicine and Biomedical Sciences and completed his residency training in Clinical Pathology at Columbia University Medical Center, where he also completed their hematopathology fellowship training program.  He enjoyed interacting with patients and felt fulfilled engaging in direct patient care. While at UB he was inducted into the Gold Humanism Honor Society, which recognizing medical students with commitments to providing compassionate care and demonstrating dedication to patients and families. And yet, a career in pathology called him.  He says he remembers "explaining to my mother, you don't need to listen to a patient's heart with your stethoscope or prescribe a patient medication to have a large impact on their care and therefore a large impact in that patient's life." Once he was able to articulate these perspectives, his concerns about choosing a field inherently less hands-on with respect to patient care dissolved.  He knew he was making the right choice.
Paul explains that "it is estimated that 70% of all medical decision making is based on laboratory test results. Emergency room docs, cardiologists, neurologists, primary care providers, surgeons, hematologists, oncologists, etc., cannot function without a quality laboratory."  As a clinical pathologist and the medical director of a clinical laboratory, he is responsible for the overall administration of that lab in a manner which demonstrates compliance with regulatory standards and ensures a level of quality in the test methods and results which can be trusted by his clinical colleagues as they make diagnosis for and manage the care of their patients. "Because laboratory tests results are so deeply embedded in the clinical practice of medicine, there are ample opportunities to contribute to a quality-based care approach to health care delivery."
Dr. Hosking's subspecialty training is in hematopathology. Hematopathology involves having expertise specifically in diagnosing disorders involving the blood and bone marrow and their associated cells and proteins.  Malignant hematopathology (related to blood cancers) refers to diagnostics of lymphomas and leukemias and often involves looking at tissues under the microscope (such as bone marrow or lymph node biopsies).  Benign hematopathology (related to blood disorders which are not cancer) involves the laboratory assessment of anemias, hemoglobin disorders such as sickle cells disease and thalassemias, and abnormalities in bleeding or clotting.  Often times, tests that are used to make these "non-cancer" diagnoses are specifically analyzed by the hematopathologist to aid in the interpretation of the results and to help the hematologist (the blood doctor who treats the patient) to make the most appropriate diagnosis.
In the general sense, a pathologist is a medical doctor who specializes in the diagnosis of disease.  This can take the form of analyzing tissues under the microscope and correlating how the cells look (morphology) with other attributes such as the kind of proteins the cells express and the genetic features of the cells.  This "tissue" is usually obtained through a biopsy or surgical procedure. In this setting, after incorporating the relevant clinical information, the pathologist writes a report describing what is found and renders the final diagnosis.  After a biopsy is performed, when the doctor tells the patient "the results will be back in a week", for instance, it is the pathologist who is working on the case and putting the report together.  When that doctor talks to the patient about the results, the information comes directly from that report.  Therefore, the pathologist's assessment directly informs that conversation.
Another main function of the pathologist is to provide medical oversight to the clinical laboratory.  The clinical laboratory is where any blood that is drawn or urine or other specimen that is collected goes for analysis.  The clinical laboratory typically has a bunch of different very complex instruments and numerous specially trained technologists who put the specimens on different analyzers or look at the specimens under the microscope.  The results of the tests go into the medical record to be available to physicians that are caring for the patients.  Some results need to be evaluated by the pathologist prior to release into the medical record.  Such pathologists (often called "clinical pathologists") are specifically trained in analyzing the results of a variety of these tests to ultimately help in making the diagnosis for the patient.  In addition, the medical director of the clinical laboratory, typically a pathologist, is responsible for making sure that regulatory requirements are met, and that the quality of the tests allow for the optimal diagnosis and treatment of patients.
Paul feels that the benefit WNY BloodCare has to offer patients is the comprehensive care model, which cannot be overstated. As the laboratory director, Paul understands his role is to "ensure that we are able to provide the most up-to-date, high quality laboratory testing for patients" whether for those patients treated at WNY BloodCare or those patients whose blood specimens are received from community practices and other facilities. "Patients with bleeding disorders first require an accurate diagnosis, which rests largely on getting these quality laboratory results "
Dr. Hosking also acts as the physician liaison for WNY BloodCare's University at Buffalo School of Medicine and Biomedical Science Inter Professional Education Initiative.  He believes the field is rich in opportunities to teach across all levels of medical care which has been an important aspect of his personal and professional development throughout his career. "In my eyes, the field offers a perfect combination of attributes that span the spheres of patient care, education and administration."
Paul's hope is to provide a place to support health and growth, whether in his lab or his garden.  Keep a look out for Paul's greenhouse garden events we will share with you on WNYBC social media.