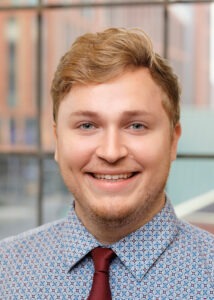 The new year is upon us, and we hope you and your family had a joyful and safe holiday season. We're excited to continue our Perspectives series with the newest addition to our staff, our Clinical and Chapter Services Coordinator, Greg Schenkel.
Greg's time with Western New York BloodCare may be brief so far, but he has embraced his role with a unique gusto. He came to Main Street from his role as corporate event planner for CitiGroup. "While I was working for Citigroup as a corporate event planner, I came across WNYBC Indeed job application. After doing some research on the company, I decided it would be a great fit for me, so I applied. The rest is history!"
He explains that his new position hits closer to home. "Though I enjoyed my position as a corporate event planner, we catered to a niche clientele and I felt that I could not provide support for my local community like I desired. WNY BloodCare has given me the opportunity to improve both my personal, and facility community outreach, through direct assistance to our patients amidst the COVID-19 pandemic, and by educating our community members on conditions that our facility can help manage and treat."
Greg told us this community focus was something he learned early on, raised outside of Poughkeepsie. It is an attitude he will always carry with him. "Growing up, selfless acts and a sense of pride in my local community was of the utmost importance. I hope to continue in translating the values I learned growing up to my role at WNY BloodCare."
He considers the Western New York BloodCare Foundation to be an extension of this quite personal goal. "The WNYBC Foundation's mission is to provide numerous opportunities throughout the year for patients and their families to connect with each other, helping to build a strong sense of community, support, friendship, and fun," Greg explained.
"Chapter Services hosts many social events where members of the bleeding disorders community can come together. Annual, seasonal and holiday events are only a few examples of events where patients and families can network, share stories and learn that they are not alone. Furthermore, we believe information is power. In order to empower patients and families, the Chapter Services provides many educational programs throughout the year.
Spreading the message is a task shared by WNYBC and the greater bleeding disorder community as a whole. "We invite experts to present a wide variety of innovative topics to our local patient community – offering current medical education, as well as sessions that address important issues such as medical insurance, stress management and overall health and wellness."
Planning for these events is also a collaborative effort. The patients at Western New York BloodCare provide valuable input for Greg and the organization. "Last year we reinstated our focus group, which consists of patients and caregivers. They helped us determine the most beneficial events, whether virtual or in-person, for our community members.
"This year has been a tumultuous one," he reminds us, "but we hope that 2021 is better for all and that we may once again hold in-person events. We anticipate that WNY BloodCare and the Chapter will be able to provide for our community, patients, and our caregivers more than ever before. Be on the lookout this month for our flyer on our virtual cooking class with our very own registered dietitian, Erin Burch!"
When Greg's not working to benefit the community with WNYBC, he's spending time with his partner in his Elmwood Village home, along with his lab/shepherd mix Bentley. He wanted us to pass along wishes of a happy and healthy new year!
Thanks for reading our latest edition of our Perspectives Series. Be sure to watch our social media for more details about this month's event with Erin!